hey! another update! thanks for all the people reading
nothing much else to say, so on with the feedback!! This next chapter has high rating! Maybe, Nc-17, im not sure. Neways, watch out!
Zooeys_Bridge:
yay you got dibs! well done. Thanks for dibsing so quickly! Hmm, i know, it was incredibly restful. But it went so quickly, and i have to go to school tomorrow. first day of the year. damn...neways, Tara's grief, might i say, is bordering on slightly insane - visions of willow in the rain etc -- and that's very natural! Im glad you enjoyed the update. Your fb made me smile
taraslove
: ahh, no anxiety! all will be good in the world, dont you worry
but can you trust me? lol, we'll find out. Yeah, as much as i love the Willow mourning over Tara stories, i just kinda liked the idea of willow being the one who died, and how Tara copes (quite differently to Willow, no black mojo, just simple, natural grief.)
ask the questions! I'd love to answer them. If you're confused about anything just say! I tend to write extremely confusing stories, where i get to the point that i cant even follow what's happening. Its a bad habit. I should stop. Cheers taraslove!!
katjetson
: Wow. I didnt realise it would have that effect. Hope your keyboard is ok. Your words just made me feel all warm and fuzzy. It's good to know my efforts are paying off. Thankyou so much
It's this kind of reaction from the reader that really touches a writer's heart.
nimloth
: Hey nimloth, glad to see your still reading
It's good to know that you approve of the notes and stuff, hope you liked the drawings in this one! Have you ever heard of, or read, The Shoebox Project? That's where i got the idea of pictures and notes from. It's an amazing read, hilarious too, you really should (if you like Harry Potter, and even if you dont.) try it!! Thanks for the feedback!
MsKittyB
: Hey! Thanks for posting! Hmm, 'willow please come back', maybe if you say it outloud your wish shall come true? lol. Yes, Anya is my sudden, spontaneous bringer of laughs. I love her character, i know that heaps of people found her slightly irritating in the series, but i found her hilarious, in a 'laughing my head off' sense! and i was incredibly sad to see her die :( Anywho, Tara is grieving and there really is only one way, or person, to stop that isnt there? So if i promise a happy ending, then lets bloody well hope Willow comes back!
Zampsa1975
: I find myself getting a little teary when i write this story. Tara really is an amazing character, she so sensitive and selfless, she deserves a very happy life
Thanks for the feedback! Hope to hear from you again
Paint the Sky
: Wow, big feedback! firstly i have to thank you for waiting so patiently! This next post is slightly lighter in Tara's grievy thoughts in the 'reality' section. I decided to hold back a little from her spilling to many of her emotions onto the page, simply because when you're in her situation, sometimes it's easier to write about the things which made you happy. Too many sad words make a sad sad story. Hmm, this chapter might make you feel a bit more 'voyeuristic', so you out it.
This bit:
Quote:
Quote:
Quote:
I feel as if I am wasting what you did for me. You saved my life, but I'm just killing myself
again
.
Just that one word, again, I wondering if I'm putting too much signifance on it?
Sorry to burst your bubble, but yeah, that was a silly mistake on my behalf
i really should read my storys in more detail. Once again, thanks for the feedback! It made me happy! Hope you enjoy next chapter!
Ok lovely people, let's get on with it!!!
Saving Myself
~.~.~.~.~.~
Chapter 2
~.~.~.~.~.~
Waiting for superman
I asked you a question that I didn't need you to reply
Is it getting heavy?
But then I realised is it getting heavy?
Well I thought it was already as heavy as can be.
Is it overwhelming they use a crane to crush our lives?
It's a good time for superman to lift the sun into the sky
Cos it's getting heavy
Hell I thought it was already as heavy as can be.
Tell everybody waiting for superman
That they should try to hold on as best they can
He hasn't dropped them, forgot them, or anything
It's just too heavy for superman to lift.
They're getting heavy
Well I though it was already as heavy as can be.
Tell everybody waiting for superman
That they should try to hold on as best they can.
He hasn't dropped them, forgot them, or anything,
It's just too heavy for superman to lift.
~.~.~.~.~.~
The Past
"Willow, get out of the bathroom already!" Buffy banged angrily on the bathroom door. Her frustration at the redhead was beginning to get the better of her. Very soon she would smash the door in with her fist, and she didn't fancy paying for the repairs.
"No." Willow shouted back, equally as angry. She has been in the bathroom for over half an hour with no intention of showing her face any time soon. Both girls had been standing on different sides of the door arguing for a good while now. Dawn was in her bedroom, but she couldn't hear anything because of the headphones on her head. Tara, downstairs making dinner, had chosen to ignore her girlfriend and the slayer's fighting, satisfied that they could figure it out on their own like adults. Only they couldn't.
"But I need to go to the toilet, and if you don't let me in who knows what will happen." She groaned loudly and banged her fist again on the door in exasperation.
"Use the garden." Willow shoved a large piece of toilet paper under the door which Buffy proceeded to stamp on violently
"Fine, I'm getting Tara." Buffy stuck her nose in the air and walked towards the top of the stairs, keeping a close eye on the closed bathroom door behind her.
"Tara!"
Downstairs Tara groaned and put down the knife she was using to slice the tomatoes with. She had been hoping to avoid dealing with this. The last time she had interfered in one of these fights, she'd ended up covered in flour whilst trying to hold the two girls apart. Dawn had captured the entire thing on video.
Hoping to get away with ignoring Buffy, she continued cutting the tomatoes up. Just as she was about to wash the lettuce, Buffy's voice roared again through the kitchen.
"Tara, Willow won't get out of the bathroom!"
"Coming!" she replied, and made her way slowly upstairs, inhaling and exhaling deeply to prepare herself for what was to come.
When she saw the fight scene she sighed with relief. So far it wasn't too bad, just a few scattered pieces of toilet paper and a red-faced Buffy.
"What's up?"
"Willow's been in there for ages, and I really don't want to break a second door down this month." Buffy looked at Tara pleadingly. "I promise I'll be good this time. No attacking the redhead." She smiled sweetly at Tara, before breaking back into a frown when Willow's voice came from behind the door.
"Tara, tell Buffy to go away." They heard a muffled bang from inside the bathroom.
"Willow, sweetie, can I come in?" Tara knocked softly on the door, putting her ear to the wood. For a moment there was no sound until a key was heard turning in the lock, and the door opened just a crack.
"Ok, but only you, not Buffy." The redhead's voice spoke quietly and Tara stepped into the bathroom, shutting the door behind her with a soft click.
Tara looked around the stark white tiled room until she spotted a blurry figure behind the glass in the shower cubicle.
"Will?" She moved towards the shower and was stopped when Willow's voice spoke suddenly.
"No! Tara, you can't see me."
Tara suddenly grew worried. "What? Why? What's wrong Will? Are you ok?" She took a step towards the shower curtain and added, "Wow that was a lot of w's."
"No! Tara, don't come any closer." There was a pause, and a deep sigh. "Something terrible has happened." she whispered.
Tara shuddered slightly when she heard the fear in the redhead's voice.
"Oh my god, did Dawn give you a makeover?" Tara's voice trembled. Her heart filled with dread when she imagined her beautiful girlfriend covered in sparkly eye shadow and bright red blusher.
"No. Much worse than that Tara." Willow's hand crept around the edge of the curtain and slowly drew it across.
Tara gasped loudly when she saw the redhead.
"Willow." The word barely made it past her lips as her bright red girlfriend emerged from the shower recess.
"I have been attacked by the only demon Buffy cannot slay." There was a long pause where Tara watched her girlfriend and Willow looked ashamedly at the floor tiles. "The sun."
Tara tried not to laugh. Admittedly the redhead must be in a fair amount of pain, but the sight of the bright red girl standing in front of her was almost too much to handle. Her skin pretty much matched the colour of her hair. Tara could only compare her to the tomatoes she had been cutting up for dinner.
"Oh Will." She couldn't manage anything else without losing all self-control completely.
At that moment Buffy burst into the room to see what was happening. She almost fell over in shock when she saw her best friend.
"Geez Will, what the hell happened to you?" Buffy latched onto the sink for support as tears of laughter came to her eyes.
Willow looked up suddenly and ran to hide behind Tara, who was having violent flashes of de-ja-vu of being stuck between the two girls.
"Hey Tara," Buffy composed herself enough to manage a few words, "Recon we can cook the chicken fillets on Miss Walking Oven here?" She gestured to the redhead and burst out in laughter.
Tara frowned at the Slayer who choked on her laughter and faked a serious face.
"What I meant to say was, this must be awful for you Willow, to mistake Red Nose Day for Red Body Day." She guffawed again, and bent over, her hands on her knees, shoulders shaking violently.
Willow stood up straight behind Tara, her hands clenching in fists around the material of the blonde's top. "Hey Buffy, remember that time you turned up to that party dressed like a fairy and it wasn't even a costume party?"
All humour fled from Buffy's face, to be replaced by anger. "Yeah well, at least I'm not the one who forgot to put sun screen on this morning before going to the beach. It's kinda your fault Will."
"Yeah? Well so is your face!" Willow stormed past the two girls out of the bathroom. Tara followed her out, giving the slayer a stern look on the way past. Buffy cringed, and decided to give the two witches some space, fleeing to her sister's room.
~.~.~.~.~.~
"Feeling better baby?"
Tara sat cross-legged in the bed next to Willow who was lying flat on her back, her head on a pillow. Her hand rested lightly against the redhead's burning forehead as she gently massaged some lotion into it. Willow shut her eyes and sighed as the blonde's cool hand granted her some relief from the heat.
"Yeah." She mumbled and turned her head into the blonde's touch.
"I think I've covered most of it." Tara took in the sight of her girlfriend's moisturizer covered body. The redhead had removed most of her clothing, and now lay in a pair of shorts and a small blue tank top, giving Tara easy access to most of the sunburn.
Willow peered mischievously at her girlfriend, "Not all of it." She smiled cheekily, and ran her hand slowly up the blonde's arm.
"Is that right? What did I miss?" Tara ran her fingers gently through Willow's red hair, catching onto the game quickly.
Willow pointed to her lips, and looked at Tara innocently.
"I didn't put any lotion on your lips? We must fix that." Tara reached for the bottle, knowing what Willow really wanted but deciding to play along, squeezing a small amount onto her finger, until Willow's hand stopped her.
"No, I don't need any lotion. You have", there was a pause where Willow placed her hand gently on the base of Tara's neck, pulling her down until their lips were a hair's breathe apart, "other ways of healing me." She licked her lips in anticipation, bringing her other hand to the small of Tara's back.
Tara shifted her body so that it lay gently on top of the petite girl, her arms on either side of Willow's head. She could feel the warmth radiating from the small body beneath her. Willow's hand continued to cup the back of Tara's head, and she moaned slightly when she felt Tara's legs come to rest between her own two legs, spreading them apart gently.
"Gods Tara." She squeezed her legs slightly around Tara's, causing the blonde to press her body down harder against the redhead. They both moaned simultaneously as their breasts came in contact.
"Goddess, I knew I was a sucker for redheads, but who thought a walking, talking tomato could seduce me?" Tara chuckled quietly, and smiled down at her girlfriend, who raised her eyebrows slightly in humour.
"Yes well, this tomato is going to give all the other vegetables a run for their money." She frowned slightly and cupped Tara's cheek, "or am I a fruit?" Willow bit her lips, her face the picture of bafflement, "Tara, am I a fruit or vegetable?"
Tara just looked down at Willow in slight disbelief. "I am about to make hot, sexy love to you and you're asking me about vegetables?" She placed two fingers lightly on Willow's lips, stopping any words that were about to be said. "Hush my little cherry tomato." She whispered, and bent down, her lips seductively brushing across Willow's.
Willow slowly edged her hand underneath the hem of Tara's top, dragging it up the blonde's body, her nails tickling the hot skin of her back. Tara shivered when she felt Willow's nails trailing up her spine, and she ground her hips down into the redhead's, causing Willow the thrust her hips up slightly into the contact.
Feeling the heat roaring from her centre as it rubbed down against Willow's, Tara moaned and pulled her top the rest of the way up her body, over her head, throwing it off the side of the bed. Willow watched in wonder as Tara threw the clothing away and lowered her bra clad torso down to rest back upon her own body. She felt herself growing weak as Tara's breasts connected with her own. She could feel the coolness of Tara's skin as it touched her own over-heated skin.
"Is this what you had in mind?" Tara spoke, her voice breaking through the haze in her girlfriend's brain as she rocked her body gently against Willow's, thighs rubbing against her girlfriend's sensitive centre, her breath brushing hotly against Willow's lips. Willow nodded rapidly, and tugged hard at the base of Tara's neck, crushing their lips together in frantic passion.
Tara groaned as Willow's tongue plunged desperately into her mouth, and the hand at the back of her neck securing their lips tightly against each other's. She thrust her hips down hard and brought her own tongue up to meet Willow's, stroking it rhythmically in her mouth. The redhead wrapped her legs around the blonde's, holding their centres together tightly, both girls seeking delicious friction through the layers of material.
Willow broke the heated kiss, panting heavily as her hand clutched tightly at Tara's naked waist, her hips grinding upwards. "Baby I need-" She was silenced when Tara's lips once again captured her own in a frenzied kiss. Willow's hands drifted to the blonde's bra, quickly undoing the latch and pulling at the straps. The girl's lips separated for a moment as the material came away from Tara's body completely, before plunging back down into the kiss. Willow's hands ran up the taught muscles of the blonde's back, and down her sides, running heatedly along her ribs before dipping underneath, between their bodies. Tara groaned into the kiss when she felt Willow's hands squeeze between their bodies to cup her naked breasts roughly. She could feel the heat of the girl's hands as they massaged her skin, and tore her lips away from Willow's to lick along her jaw line and suck at the hot skin of her neck, tasting the salt of the girl's perspiration on her tongue, her head nestled tightly in the crook of the redhead's shoulder.
Tara brought her hands down to clutch at Willow's waist so that her entire weight lay on top of the redhead, one hand squeezing between their bodies to cup Willow's centre through the thin material of her shorts. Willow's hips jerked up hard at the sudden contact and her legs wrapped themselves tighter around Tara's thighs, her mouth open, eyes squeezed shut as she moaned Tara's name loudly. Tara continued to feast at the girl's neck, sucking hard on her pulse point. Willow's hands squeezed Tara's breasts hard, rolling her nipples between her thumb and finger, causing Tara to moan into her neck.
Tara pulled her hand away from the redhead's centre, ignoring the groan of protest, and brought her hands to the base of the girl's tank top, removing it quickly from the redhead's body, exposing Willow's breasts. Pleased that the redhead wasn't wearing a bra, Tara lowered her lips down to her left breast, sucking on the stiff nipple, her hand cupping the other breast gently in the palm of her hand. Willow arched her upper body up into Tara's touch, one hand holding the blonde's head whilst the other clutched at Tara's shoulder, nails digging softly into her skin. She moaned as the blonde's tongue ran heatedly around her swollen nipple, and whimpered as Tara's teeth bit down gently at the swell of her breast.
Tara continued loving her girlfriend's breast, and brought a hand down, dragging it against the hot skin of the redhead's stomach, before reaching the waistband of the girl's shorts. Willow's legs now wrapped themselves around Tara's lower back, and she felt the blonde's hand slip underneath the elastic of her panties. She panted frantically in anticipation, tugging at Tara's hair, urging her on. The blonde's lips left her breast and she brought herself back up the redhead's body, staring deeply into her girlfriend's green eyes as her hands gripped the edges of Willow's shorts, pulling the material of both the shorts and the panties gently down her legs, her knuckles rubbing against the smooth skin of her thighs. Willow stared back up at Tara, both their eyes darkening with desire. Willow panted in unrestrained lust, her hips thrusting up into Tara's in urgency as the blonde completely removed her shorts, leaving the redhead naked beneath her.
Tara brought her hands back up to clutch at Willow's hips, halting her desperate movement. "Please baby." Willow panted heavily, her hands running down Tara's sweaty back and underneath the band of her denim pants to rest against her girlfriend's bottom, underneath the elastic of her underpants. Tara jerked downwards when she felt Willow's small hands come to rest underneath her jeans on the hot skin of her ass, and she moaned as the feeling shot straight to her clit. In one movement Willow had undone the button of her jeans, lowered her zipper and pulled the material down Tara's legs. The blonde shifted her legs until the offending material came away completely, and she could feel all her skin against the redhead's naked skin as she settled down to straddle her girlfriend's thigh, her own thigh pressing against Willow's centre. It was heaven. Both girls gasped loudly at the sensations as they ground their bodies against each other, the bed rocking in a steady rhythm in time with their movements.
Tara clung at Willow's sweaty hair, her fingers tugging the girl's head up to her own and their mouths meeting in desperation. Willow squeezed Tara's ass, pulling her down hard against her hips in an unrelenting rhythm. Moans filled the air as the two girls coupled frantically, lost in their love for each other.
Willow's head fell back onto the pillow, her hair splaying out, her body arching up into Tara's as the blonde once again attacked her neck, sucking and kissing the soft skin, her hands cupping the back of Willow's neck tenderly. The redhead's breathing grew ragged as she pulled the girl down harder against her centre. The sensation doubled as Tara thrust down harder onto the redhead, grunting with each movement as their centres came in contact with the smooth skin of their thighs. The intensity of the situation as the girls ground against each other became too much for both of them, and Tara's head dropped from the redhead's neck to rest helplessly in the crook of the girl's shoulder, her body heaving desperately for air, the pressure in her centre building with each passing moment.
Willow turned her head into Tara's neck and bit down hard into the soft skin as her body shook violently, arching up suddenly as tremors ran through her body, her chest rising and falling uncontrollably. The pain from the redhead's teeth sinking into her neck soon turned into pleasure as Tara screamed Willow's name desperately into the bedspread, the sound muffled, her hips jerking wildly.
Willow stroked the back of Tara's head lovingly where it nestled snug against her shoulder, her other hand encircling the blonde's waist. Their breathing gradually slowing as both girls descended from the intense moment of their climax.
Tara mumbled into the bed as Willow continued to hold her tenderly. "How are you feeling now?" She shifted slightly on top of the redhead, rolling onto her side so that her arm came to rest across the girl's stomach, her leg flung carelessly across Willow's legs.
"Perfect." Willow's arm wrapped itself around Tara's back and the blonde snuggled tightly into her side, her other arm pulling a blanket over their entwined bodies.
"Sorry for biting you." Willow whispered after a moment, but Tara was already snoring softly in her sleep.
~.~.~.~.~.~
Buffy came to check on them later, to see why neither girl had made it down to dinner. She found them in that position, fast asleep beneath the bedspread.
"Tara ate the tomato." Willow muttered suddenly in her sleep and resumed snoring.
Confused, but smiling anyway, the slayer shut the door gently behind her and made her way back downstairs to watch T.V with Dawn.
~.~.~.~.~.~
The Present
Blinking, Tara woke up from yet another bad dream to the sound of the phone ringing loudly. She squinted her eyes and looked at the time on the small digital clock beside bed. It read 4.17am.
Rubbing her eyes tiredly she scooted across the empty bed to the buzzing telephone, locating the appliance with fumbling hands she pressed the talk button and held the receiver to her ear.
"Hello" Her voice was croaky from sleep, or lack of.
"Oh Tara, yes hello." A deep British voice sounded from the other end, followed by the distant whining of an ambulance siren.
"Mr. Giles?" Tara sat up in attention. Giles hardly ever called, and he never called this early in the morning.
"Oh yes, sorry it's me, and I really didn't mean to wake you up, but I need to speak to Buffy urgently." He sounded worried, and Tara frowned when she heard, yet again, the sound of the ambulance siren, closer this time.
"Um, ok, I'll just get her. She only got back from patrol not long ago, so she's probably still up. Hang on a second." Tara tiptoed from her bedroom to Buffy's room, where to her surprise she found the girl fast asleep and snoring like a donkey.
"She's asleep, I'll wake her up for you." she whispered into the phone, and gently shook Buffy on the shoulder. The girl stirred, but didn't open her eyes.
"Thank you." Giles sounded distracted by something. Tara shook Buffy harder and she still didn't wake up. She was about to shout her name when the slayer suddenly got off the bed and walked into the bathroom without giving Tara a second glance.
"She's gone to the toilet." Tara spoke into the phone again.
"Ok." There was a pause in the conversation and Tara sat down on the bed, fiddling with the corner of the quilt. She didn't know what to talk to Giles about. His mind was obviously occupied by other things, and Tara was too exhausted to make small talk. But this man had been like a father to Willow, and Tara decided if she wanted to talk to someone he would be the perfect person. Still, right now was not the time or the place. She sighed softly, watching the bathroom door for the slayer to return.
"So Tara, how are you managing?" The gentle voice drifted across the phone and Tara smiled sadly. It was as though he knew exactly what she had just been thinking, and if he did it wouldn't have surprised her in the slightest. He'd always managed to somehow read her mind, even over the phone.
She was just about to reply when Buffy burst from the bathroom, struggling with a large piece of toilet paper in her hands.
"Tara!" She spotted the girl sitting on her bed holding a phone. "Phone!" She quickly crossed the room, losing the toilet paper and taking the phone from Tara's outstretched hand. She smiled at Tara as she held the phone up to her ear. "Hello?"
Tara walked out into the hall, no longer feeling very sleepy. She heard Buffy's voice drifting from the open bedroom door, "Oh hey Giles. What's up?" Deciding she could do with an early morning snack, Tara walked down the dark stairs to the kitchen. The sun hadn't started to rise yet, so the house lay in darkness, except for the light from Buffy's bedroom and the dim glow of the moon.
She reached the kitchen, padding over to the fridge. Her bare feet touched the cold tiles, but she didn't feel it. A thin moonbeam shone through the kitchen window, and for a moment Tara froze, just staring out into the ghostly shadows of the night. The trees in the garden looked like tall, thin skeletons as they swayed slightly in the breeze. Tara sighed and watched them, imagining Willow walking through the trees towards her.
"You ok bird?"
Tara jumped and spun around. Spike was standing in the doorway behind her, watching her carefully, one hand shoved down the pocket of his black jeans and the other playing with a small, metal cigarette lighter.
"Bit early for breakfast isn't it?"
He looked eerie in the moonlight, like one of the tree skeletons in the garden. Tara shivered.
"I couldn't sleep." Her voice was still croaky from before. She kept watching Spike, not making any move towards the fridge.
Spike hefted himself up onto the kitchen counter, swinging his legs back and forth, still flicking the lighter. "Well don't let me stop you from doing whatever you were doing."
Tara gave a small smile and opened the fridge, taking out a banana. It felt cold in her hand, the yellow skin covered in little brown dots. She sighed and moved into the lounge room, noticing a large, black hammer sitting next to the coffee table. It was the hammer Buffy had been going to fight Glory with, but Tara was a bit confused as to why it was sitting in their lounge room. She noticed that Spike had followed her in, and was now lounging casually on the couch, his feet propped up on the hammer.
"What's that for?" She gestured to the huge troll hammer Spike was sporting at his feet.
"Oh, you mean the hammer? Buffy was using it on patrol. Extra large demon baddy to deal with." He sniffed and flicked open his lighter, waving it back and forth so that the shadows danced around the room. "She kicked his spiny, black ass though."
Tara watched the flame flickering about for a bit, trying not to dwell on the weapon that sat at the vampire's feet. Spike looked up when she didn't say anything, noticing the way she was staring at his lighter with a faraway look on her face, and then how she looked down at the hammer. He could literally see her whole body cringe away.
Spike flicked the lighter shut, stuffing it back into his pocket. "Sorry bird," he looked at her apologetically and nudged the hammer with his foot, "tough memories?" Tara nodded and sat down on the couch beside him, resting her chin on her hands.
"Wanna talk about it?" The moon glanced of the top of his blonde hair, now more ruffled than it used to be. Tara looked up and saw the genuine concern in his eyes, and the way he cocked his head slightly to the side as he peered down at her. Tara believed she could trust Spike. The way he had risked his own life to protect Dawn's had been enough to convince her. His steadfast loyalty to the Summers sisters was enough to touch something deep in her heart.
All her life she had been surrounded by men who cared little for women, show them no respect and treated them like dirt. Men like her father and her brother. Despite what Xander thought, Spike was nothing like these men. Spike was a different kind of monster. He was reluctant to accept the evil within himself. Tara knew that beneath the tough, impenetrable surface, there was a simple, caring young man, who would do anything for the people he loved, and right now she knew she could well and truly trust him.
"I just want to take everything back."
Suddenly it felt so easy, to open herself up. To empty everything that had been building up inside for an entire year.
Spike kept watching her in silence, waiting for her to continue. His eyes twinkled slightly in the moonlight.
"I feel so empty without her." She felt the tears welling up and tipped her head back in frustration. Why did she always have to cry?
"There's nothing you could have done bird. Willow had to do what she did. She was one stubborn young lady and no one could have persuaded her otherwise." Spike was no longer looking at her, his eyes focused on something across the other side of the room. "I would do it, for the person I love."
Tara looked hard at Spike, noticing how deep in thought he was. "You mean Buffy?"
Spike nodded and looked down at the ground. "I would do anything for that woman." He spoke the words with such conviction that Tara couldn't have believed otherwise.
"She really came through in the end, your red." Spike was once again looking at Tara, his eyes steadily taking in the hunched figure. Tara looked up in question. "What I mean to say is, after what Glory did to you we didn't know how she would take it, how she was going to manage. Just turns out she was a whole lot stronger than any of us were."
They both sat quietly, the sound of the clock ticking from the kitchen echoing through the room. Somewhere a dog barked.
"Did it hurt her?" Tara felt like being sick. This question had been imbedded in her thoughts since Willow's death.
"The spell?" Spike looked at Tara who nodded. "I think so. But it was quick. One minute she was standing there, all aglow with the powers, the next she was slumped against the wall. It was some pretty intense magic. I've never seen anything like it. Blew Glory to a million pieces," He looked Tara over for a minute, "gave you your mind back."
Tara bent over, her shoulders shaking, a soft sob broke the silence. The mental pain she now felt must be nothing compared to the pain Willow had felt as she died. Spike shifted closer on the couch, his arm reaching out to pat her gently on the arm. "If there's anything I can do, just say."
Tara leaned into his touch. "Can you tell me," her voice broke slightly, "What happened? How she died?"
Spike looked at the broken girl beside him sadly. She truly was a shadow of the person she used to be.
"That I can do."
~.~.~.~.~.~
The Reality


Anya gave me these photos. I'm not sure why she didn't give them to us earlier. I think I'm just glad she hasn't shown them to anyone else.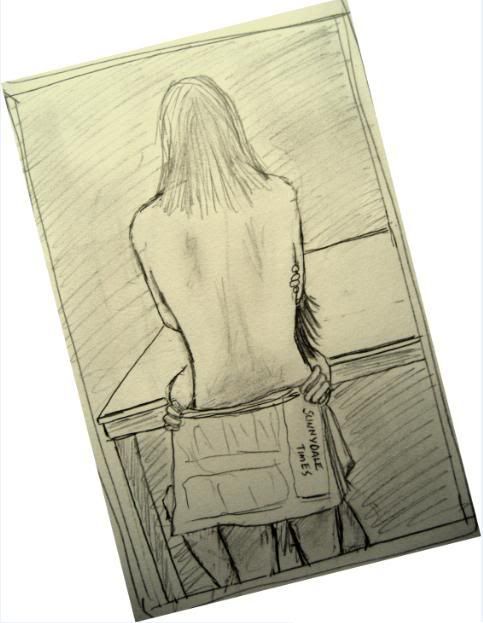 This is when she caught us in the kitchen. You screamed and hid behind my legs when you saw her. Hmmm, I don't think Buffy's ever touched another Sunnydale Times since she found out what we'd used it for.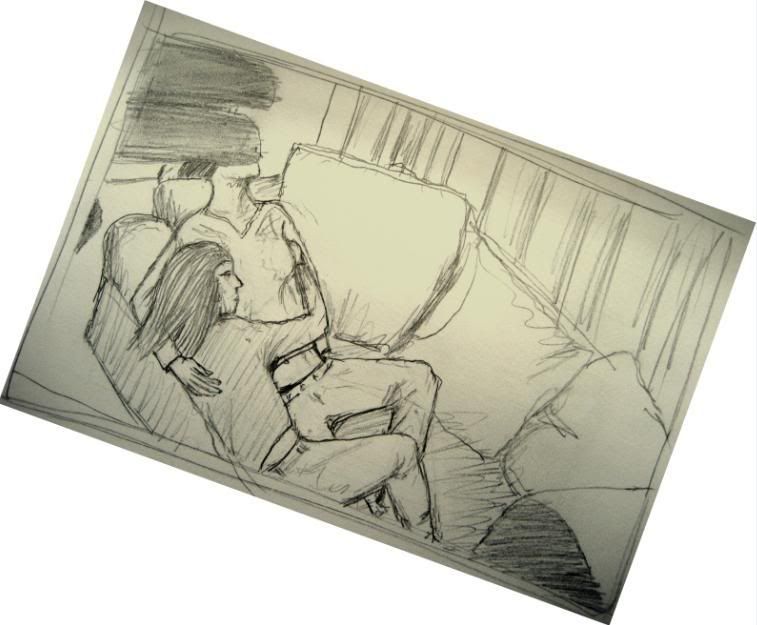 We were asleep on the couch after Dawn's 16th b'day party, but then Anya woke us up because she was giggling too much. She's really not good at using the camera, hence her fingers are covering your face in this one.




Anya took this outside the bronze one night. I miss seeing your smile. I miss seeing Xander looking that happy too. I remember Buffy refused to go in the photo because she couldn't cover up the black eye a vampire had given her the night before. Anya got a shot of her later though and Buffy does not look very pleased.

Spike was actually in the background of this one, looking shifty as usual, but of course he's a vampire so you can't see him.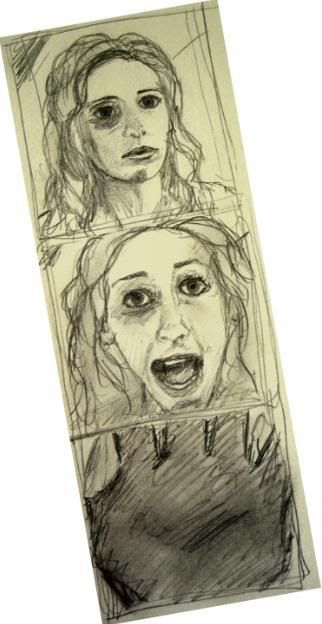 Anya calls this the 'Angry Buffy at the Bronze Series'. Buffy made Anya pay for it big time. She forced Anya into joining her on a trip to the pet store, "to buy a mouse for Dawn", Buffy said, but we all knew it was to freak Anya out when she saw the bunnies.




You and me at the beach last summer. Me with Xander's to-cool-for-school sunnies, and you with your bright blue flip flops. I wanted to hold you like that forever. When we got home you hid in the bathroom because of your sunburn. You made such a big deal about it then, even though it was such a small thing.

Now I would do anything to have you back here, complaining about the sun and squabbling with Buffy.

I would do anything to make love to you again, the way we did that night.


~.~.~.~.~.~
so what's your opinion? Is tomato a fruit or vege?
enjoy! you guys are great